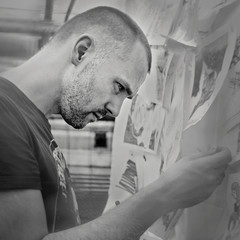 Sebastian Komorowski
Concept Artist + Illustrator
Kraków, Poland
Summary
ENG
He lives and works in Cracow. He is a founder of the "Hoppers" design studio where he is responsible for the art direction. It ensures that the projects retain their minimalist style and character.
He is graduated from the University of Pedagogical Graduation Design and Animation by the diploma of animation and character design for music video of "Bubble Pie - Fast Cars".
Since 2012, with his head full of ideas, he makes an illustrations / designs / draws and patterns dedicated for male T-shirts and sweatshirts in the "House" brand (LPP S.A. company).
Previously he was involved with the advertising industry for eight years, where he collaborated with Bacardi Martini Polska, Samsung, Huawei, Orlen Oil, Ursa, Buma Group.
From time to time he leads the project "Dolly Hardass" where he creates looking angrily , vector sheep, which are dressed by him in movie style tough guys one by one.
In 2016, in collaboration with "ON Production", he participated in the project "Welcome Home Boys" by Kinoteatru Mumio. He created a series of conceptual images which, after the post-production of the ATOMY group and the watchful eye of Dariusz Basinski and Jacek Borusinski, were the background of the performance.
He draws, illustrates, animates and designs a lot. He draws mostly by hand, but often makes drawings of pure "vectors".
Skills
Concept Art
Digital Painting
Illustration
Graphic Design
Vector Illustration
Storyboard
Software proficiency
Productions
Commercial / Advertisement

Matryoshkas & Co (Collection)

Year

2015

Role

Graphic Designer

Company

House Brand (LPP S.A. Company)

Commercial / Advertisement

Etnic Illustrations

Year

2017

Role

Graphic Designer

Company

Hoppers - Design and Illustration

Movie

Plan

Year

2009

Role

Storyboardist

Company

Pstrong Production
Experience
Art Director, Founder at Hoppers - Illustration and Graphic Design

Krakow, Poland

Press illustrations, Brand Identity, Graphic Design

Graphic Designer at House Brand (LPP S.A.)

Krakow, Poland

Illustrations, designs and patterns dedicated to t-shirts and blouses in Man departament.